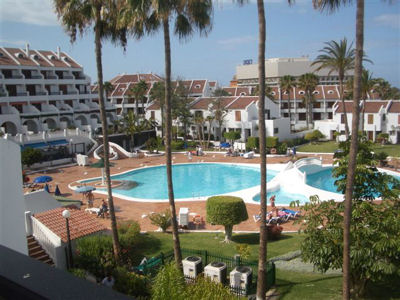 Parque Santiago I and II are both very popular complexes as they are in a great location, being right on the sea front in Playa de las Americas. There is a choice of two small beaches which are directly in front of the complex, or the two main resort beaches are only a 10 minute walk away, where there is a great selection of water sports on offer. There are many restaurants, shops, bars and nightlife nearby, which guests can enjoy along the ocean front promenade, which stretches in either direction to Los Cristianos or Costa Adeje.

The Parque Santiago complexes are very styllish in design and the apartments overlook beautiful landscaped gardens with palm trees and tropical flowers. Right in the middle of these pretty gardens are the swimming pools, which are surrounded by spacious sunbathing terraces. There are plenty of sun loungers (small local charge may apply).

Holidays4u highly recommends this complex which is very popular with our guests. It is good value for money for guests who are looking for high quality accommodation.
Car hire is not necessary at this property.

There is free wi-fi on the complex Parque Santiago II and the pool is heated.

On Parque Santiago I there is also a friendly pool bar where Pepe and Sue will give you a warm welcome. Breakfast is served from 8.30am, drinks, meals and ice creams etc. are available until late.

Also it should be noted that if you are staying on Parque Santiago I you are allowed to use the facilities on Parque Santiago II and vice versa. The complexes are located on the sea front and are next door to each other.

IMPORTANT NOTE: The pool on Parque Santiago II will be closed for renovations between 26th of April till the 13th of May 2019. Guests staying here will be allowed to use the pool on Parque Santiago I.