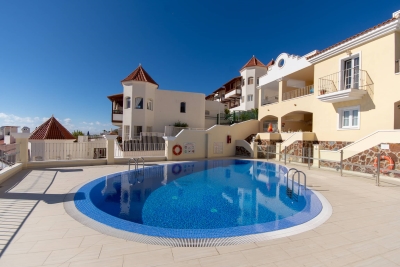 The Bahia la Caleta complex in La Caleta, Tenerife, is a luxurious residential development situated in a picturesque coastal town on the southwest coast of the island. It offers a blend of modern architecture, stunning natural beauty, and a serene lifestyle.

The complex is designed to cater to discerning individuals seeking a tranquil and upscale living experience. It consists of a collection of high-end residential properties, including apartments, townhouses, and villas, all meticulously designed with exquisite attention to detail.

Nestled in a privileged location, Bahia la Caleta enjoys breathtaking views of the Atlantic Ocean, the neighboring islands, and the rugged Tenerife landscape. The development boasts well-manicured gardens, lush green spaces, and palm-lined avenues, creating an oasis of serenity amidst the coastal environment.

The properties within the complex offer spacious and elegant living spaces, featuring contemporary designs and top-of-the-line amenities. Many residences come with private terraces or balconies, allowing residents to soak in the beautiful surroundings and enjoy the mild year-round climate.

Bahia la Caleta takes pride in providing an array of exclusive facilities, including a communal swimming pool and sun terraces, where residents can socialize and relax.

La Caleta itself is a charming fishing village renowned for its peaceful ambiance and traditional Canarian charm. The complex offers easy access to the town's quaint streets, which are lined with charming restaurants, cafes, and boutique shops. Residents can enjoy fresh seafood delicacies, stroll along the picturesque promenade, or simply unwind on the sandy beaches.

The Bahia la Caleta complex provides a secure and gated community, ensuring residents' privacy and peace of mind. The presence of dedicated security staff and modern surveillance systems further adds to the safety and comfort of the residents.

Overall, the Bahia la Caleta complex in La Caleta, Tenerife, offers a harmonious blend of upscale living, natural beauty, and a tranquil coastal lifestyle. It is an ideal destination for those seeking a refined residential experience in one of Tenerife's most scenic locations.