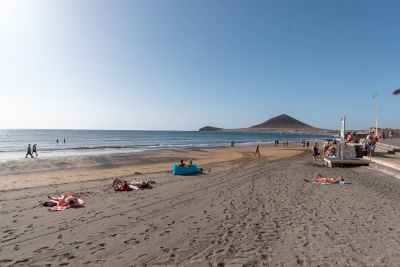 El Médano (Spanish, "The sand dune") is a town in the municipality of Granadilla de Abona, on the island of Tenerife, one of the Canary Islands.

A place of strong winds, it has been the site for various windsurfing competitions and championships, though in recent years, an increase in the number of high-rise hotels and apartment buildings has reduced these winds' power. However, El Médano is still one of the world's best windsurfing/kitesurfing locations, with three different windsurfing spots, the Bay (flat/swell), the Harbour Wall (wavespot sideshore), and Cabezo Beach (wavespot onshore). The main bay is divided into three areas, the general sailing area with very good entry and exit points, the swimming area, marked by a chain of buoys and the pigs bay, which is to be avoided because of security reasons.

The town is situated near the largest natural beaches of Tenerife, the Playa Grande and the Playa La Tejita. Between the beaches is La Montaña Roja ("The Red Mountain"), a volcanic cone that is a protected natural reserve. It's a great place to relax and wind down. There is a large town square in front of the main beach, which holds many local fiestas, especially during the summer months and a spectacular annual public firework display across the bay. Around this square are many bars and restaurants where you can take a coffee or eat Spanish tapas or sea food. A nice and cozy wood board starts there and goes all along the beach up to "kite" beach and through the "medanos" or rocky dunes that are a result of the erosion caused by wind and sea. El Medano is located just south of the Reina Sofia airport, located in the south of Tenerife. Aircraft noise can be heard quite regularly. This is a small coastal resort that has a more Spanish theme than most other resorts in the south of Tenerife, frequented, especially on weekends, by local people with their children, to enjoy bathing in the shallow seas. Parking can be a big problem at weekends.